Do you want more information?
English courses for companies
Do you need to improve your English? In adacademy, we offer specialized English courses for foreign courses for companies could be taught for one person or for small groups,
We have flexible schedules for our courses, so we adapt to the students so that they can combine their course with their work and personal life. English lessons can be delivered at the client's facilities, at our school or online.
Courses design is carried out after a previous analysis of the student and company needs. This study will help us to determine the course goals and learning topics.  All our programmes are structured according to the Common European Framework of Reference for Languages (CEFR). At the end of the English course, students will receive the adacademy certificate of attendance.
Besides, our courses can be financed, through credits from Fundación Tripartita (FUNDAE).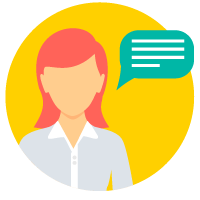 Our private English lessons for business are delivered face to face. Students will be able to choose the continent of his class according to what interests them most and also the schedule that suits them best. Our lessons can take place both in our school in Malaga city centre or the company facilities.
You can combine private English lessons to online lessons, for those cases in which students have to do a work travel without delaying their lessons.
With our group English courses, students will improve their language skills in a short time, from beginner to advanced level. The recommended number of students per group goes from 2 to 6 people, although it will depend on the preferences of the company.
Standard English Course for companies
The Standard English Course for companies is designed so that students have a constant rhythm in learning and want to combine it with their day to day.
Intensive English course for companies
The Intensive English course is designed to achieve a higher level in a period of 3 months. We deliver 3 hours per week, usually divided into two lessons (1 hour and a half each one).
Intensive express English course for companies
Our intensive English express course is characterized by allowing the student to achieve a higher level of English in a short period of time. It's the perfect course for those people who need to speak English in a short time and who have limited hours. The full course lasts 2,5 months, 4 hours a week, divided into two lessons per week (2 hours each lesson).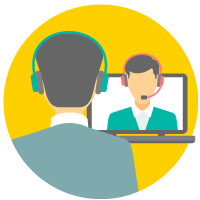 Students will have the possibility to choose the place where they will attend the lesson with our online English lessons. Thanks to this method, many of our students have learned easily from home, at work or from the place where they were travelling to at that moment. In addition, online lessons can be combined with face-to-face lessons, allowing the student to have even more flexibility in learning.
In a personal interview with the teacher, the content and objectives of the English course will be defined. Students can access 24h to all the teaching resources of the course though our online platform.
English courses for adults
Our private English classes for adults are aimed at making the most of each lesson. The contents are planned before the beginning of the course so that the student learns efficiently and in the shortest possible time. Lessons can be adapted to the schedule required by the student.
Lessons will be completely delivered in English, allowing students to enter into the language from the beginning. At the end of all our courses, we will give our students the adacademy certificate of participation.
Group English lessons are designed so that our students improve their language skills in a short time. Thanks to the dynamic and interactive methodology of our teachers, students will be able to communicate in English, both oral and written.
Our groups are small, usually consisting of 2 to 6 students to allow teacher to dedicate and exclusive time to each student. All our students will receive the certificate of participation at the end of the course.
We have different possibilities for our students:
Our Standard English has been designed for those students that want to keep a steady rhythm in their learning and combine it, in this way, with their daily activity. In this course model two hours of class per week are taught and its duration is 5 months.
The intensive English course is designed for those students who seek to advance level in an average time. Classes are taught two days a week for an hour and a half.
Intensive Express English Course
With our express intensive English course the student will advance to the next level in just two and a half months. Four hours of class per week are taught, spread over two days. It is designed for students who need to speak English in a short time and do not have full availability.
Tailor-made courses for groups
Are you not convinced by the other modalities? Do not worry! We have the course as you search. We offer tailor-made English courses, designed for groups of students, employees, friends or family members who need a different schedule or class hours. We adapt to the different proposals of our students.
The duration of the course can be from 10 to 40 hours per week and from 1 to 53 weeks. The contents of the course and its syllabus will be previously planned according to what the group requests.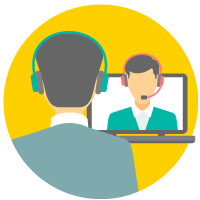 Another of the most demanded courses is the online English course. It is designed for people who cannot travel to our school and want to train easily from home, work or place where they are. The contents and objectives of the online course will be presented in a personal interview with the professor. As in the rest of our courses, the student will receive a certificate of participation at the end of the full course.
English courses for young learners
In Adestudios, we offer private English lessons for teenagers and kids. Our teachers will adapt the contents of the course depending on the students' level and needs. Besides, students can choose the number of lessons per week.
Apart from learning English, students will have the opportunity of meeting new people with the same age and doing dynamic group activities. Group lessons can have from 2 to 6 students and, according to the group needs, we offer different courses: